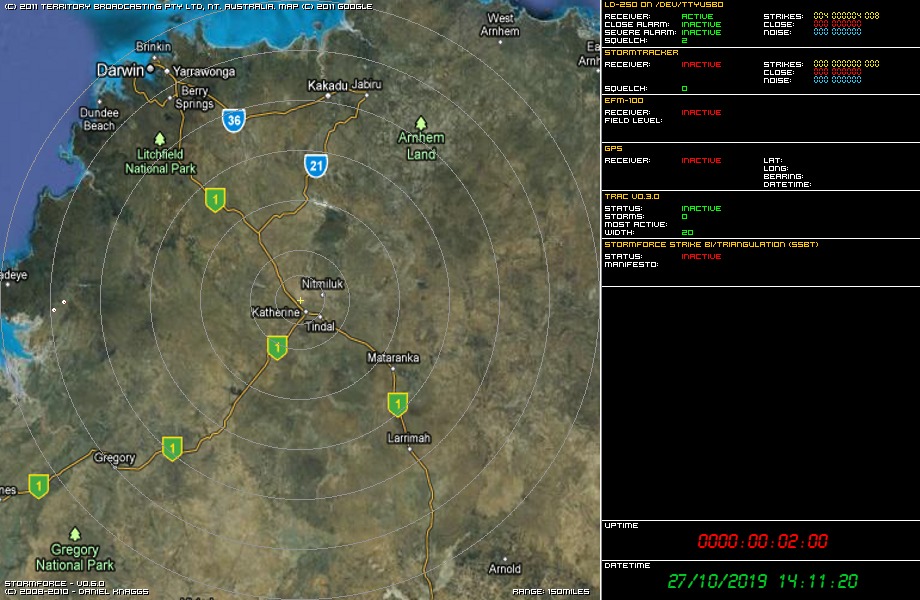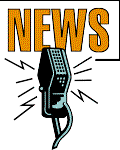 Now on Katherine's new 2M Repeater
On May 10th 2018 The Katherine new 2M repeater was commissioned. Out 146.750 MHz and in 146.150 MHz with 91.5 Hz CTCSS on the input. The input will automatically accept either C4FM or Analogue FM. The output is locked to Analogue FM at this point in time. Reports are welcome. Both IRLP and EchoIRLP are in operation via the repeater.

Back to 2M
Unfortuneatley, the 6M experiment proved to be far too difficult around town with handhelds, etc to make this worthwile. Today I moved the original Diamond 510 antenna back and moved back to the original 2M simplex frequency of 146.750 MHz. Same CTCSS of 91.5 Hz. Now virtually back to what ot was. 09 December 2012.

Node 6800 now on 6 Metres!!
Purely for experimentation, I have shifted the node to 6 Metres to evaluate the signal around Katherine and investigate the range. The 6M antenna is located in the same place as the old 2M antenna. Running 100 watts initially and using 53.525 MHz as it is a reccommended simplex channel under the band plan for Australia. Standard Australian IRLP CTCSS of 91.5 Hz has been utilzed for access.
Node 8191 Closed in the Azores
Node 8191 has been shutdown in the Azores with my pending return home to Australia. The node was closed on Sunday 2nd may 2010 after 14 months of operation.

IRLP 6800 Frequency change
After trying Node 6800 on the new WIA band plan allocated frequency, there is just too much interference between the node and APRS. The node has been once again shifted higher in frequency to 146.750 MHz. CTCCS has been shifted to the new recommended frequency of 91.5 Hz
IRLP 6800 Down & Back up!!

Node 6800 in Katherine suffered a PA failure in the Tx which saw the whole system shut down last week!! My special thanks go out to Steve (VK8SJ) for giving up a lot of his personal time and going around in my absence and programming another radio and changing it over which now means Node 6800 is back up and running......Thanks Steve!!!
Node 8191 lives again!!!
Node 8191 is up again in the third location in its life!! First was Niger as 5U7MA, then back home to Australia as the 10M experimental FM Node and now it is up again in the Azores Islands with my latest callsign, CU4AX. It is also the only IRLP node in Portugal!! As usual it is a dual IRLP/Echolink node with the Echo vanity node number of 6411. It is operating on 145.950 MHz with CTCSS freq of 67.0 Hz. It is located in the main town of Santa Cruz on Graciosa Island with a power of 20 watts into the same Diamond 510 that has followed it around as well. I hope it gains popularity with the locals as well as serving as my link back home!! Specific email for this node can be sent to me at: cu4ax@tbpl.com.au
APRS Igate/Satgate
A little off subject, but but I have now built and have an operational APRS Igate/Satgate on 2M here in Katherine as of 1st August 2007. Due to the seasonal nature of visiting Ham Radio road traffic (May to October) thru Katherine I have now made the system switchable between being an Igate or a Satgate. A glance here will show which mode is currently operational in Katherine:
2M Satgate 145.825 MHz Simplex is currently:
Down
2M Igate 145.175 MHz Simplex is currently:
Up
RSGB Programme added to list
The RSGB programme from England has been added to the regular programmes. See Programmes & Facilities tab for details.
Vanity Echo Node number
The Echolink part of the Node now has the new vanity node number:
Katherine Echo Node 8913 (VK8MA-L) (IRLP Node 6800, 2 Metres)
New Stats Figures
For those that are interested I have added the "Node Statistics" hyperlink to the left which goes to a dedicated page of statistical information about the servers, node, etc. The most interest to Amateurs will probably be the EchoIRLP log which shows the last 40 events from that log, so if you are having a problem connecting you can check this page which is updated every 5 minutes and obtain a basic indication of what may have gone wrong.
WIA WEEKLY NEWS
Until further notice, IRLP node 6800 in Katherine will broadcast the weekly WIA News and the schedule will be:
Time: Sunday's 0900 & 2000 hrs (CST) on Node 6800 (2M - 146.750 MHz)